Home ﹥ Products > Fire Extinguisher > Fire extinguisher Water fire extinguisher 2000, non-toxic, suitable for initial fires of automobiles, flammable liquids, kitchen oil pans, electrical substitutes, water-based fire extinguishers Stainless Steel Bottled Water Extinguisher 2L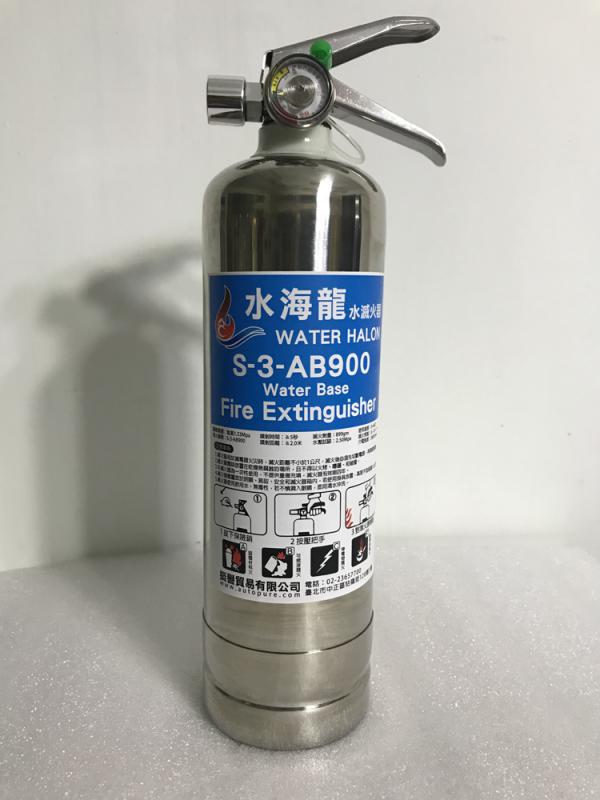 Fire extinguisher Water fire extinguisher 2000, non-toxic, suitable for initial fires of automobiles, flammable liquids, kitchen oil pans, electrical substitutes, water-based fire extinguishers Stainless Steel Bottled Water Extinguisher 2L
Taiwan made stainless steel fire extinguisher water halon water fire extinguisher car gasoline oil pot electrical fire water based fire extinguisher Stainless Steel Fire Extinguisher. WA2000
Water Fire Extinguisher
Click here

Price NT$ 2,600

Special Offer NT$ 2,100


Stainless steel fire extinguisher Water fire extinguisher, non-toxic,
suitable for initial fires of automobiles, flammable liquids, kitchen oil pans,
electrical substitutes, water-based fire extinguishers
Stainless Steel Bottled Water Extinguisher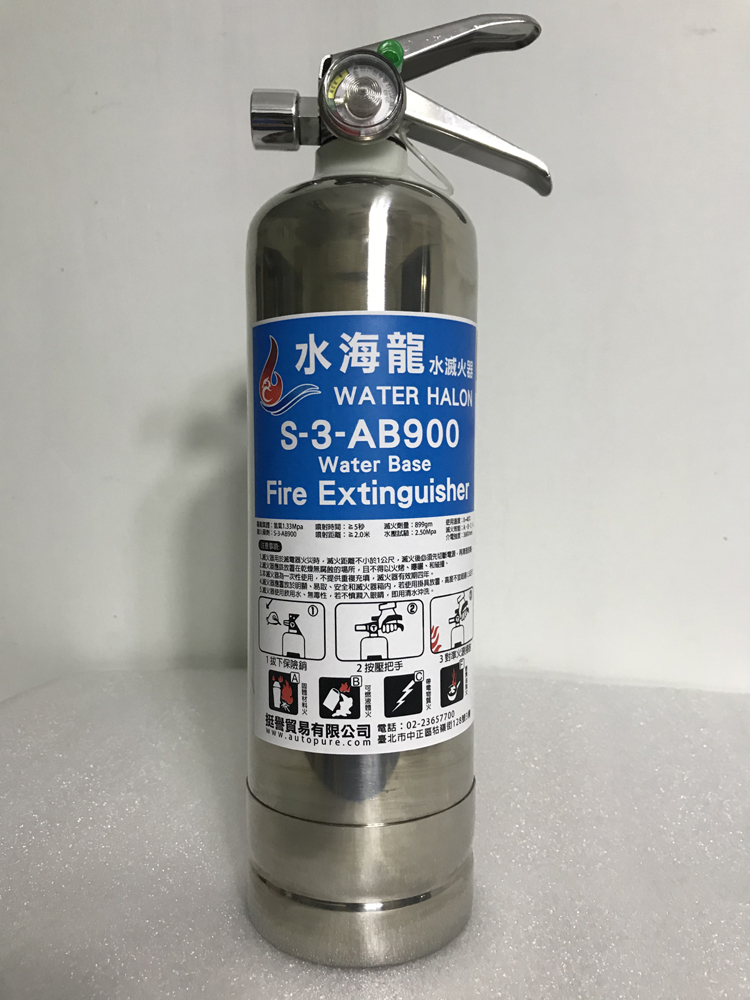 Water Halon Fire Extinguisher Non-conductive 2L
In the early stage of the fire, it can effectively reduce the fire source,
prevent the fire and cause losses.
Small and lightweight, suitable for use in cars, vehicles, machine rooms,
homes, kitchens and electrical boxes.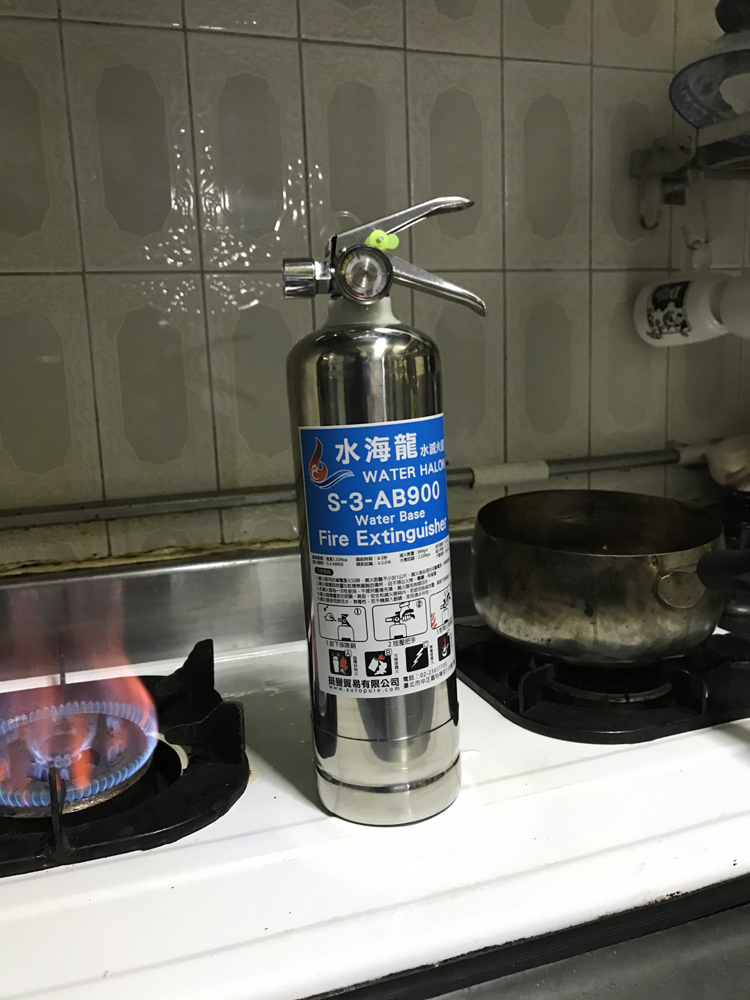 In the early stage of the car fire, quickly extinguish the fire source,
supercars, cars, buses, buses, trucks, SUVs, Camper van, tour bus,
kindergarten car, electric car, building, apartment, suite, home, kitchen…
Easy to use and light weight, grandma and grandpa can handle it!
The 5-meter spray capability ensures a safe distance from the fire source,
and the spray is in the form of water.
Water halon use (97% pure drinking water + 3% S-3-ABX + PFOS & PFOA Free
fire extinguishing agent) No toxicity: LD50 toxicology test >5,000mg/kg body weight,
Toxicological test LD50 was fed to mice for three months, healthy and strong,
and harmless to humans and animals. Does not produce smoke and dust,
does not block line of sight, does not conduct electricity
≦36KV/mm, quickly extinguishes fire, and is easy to clean.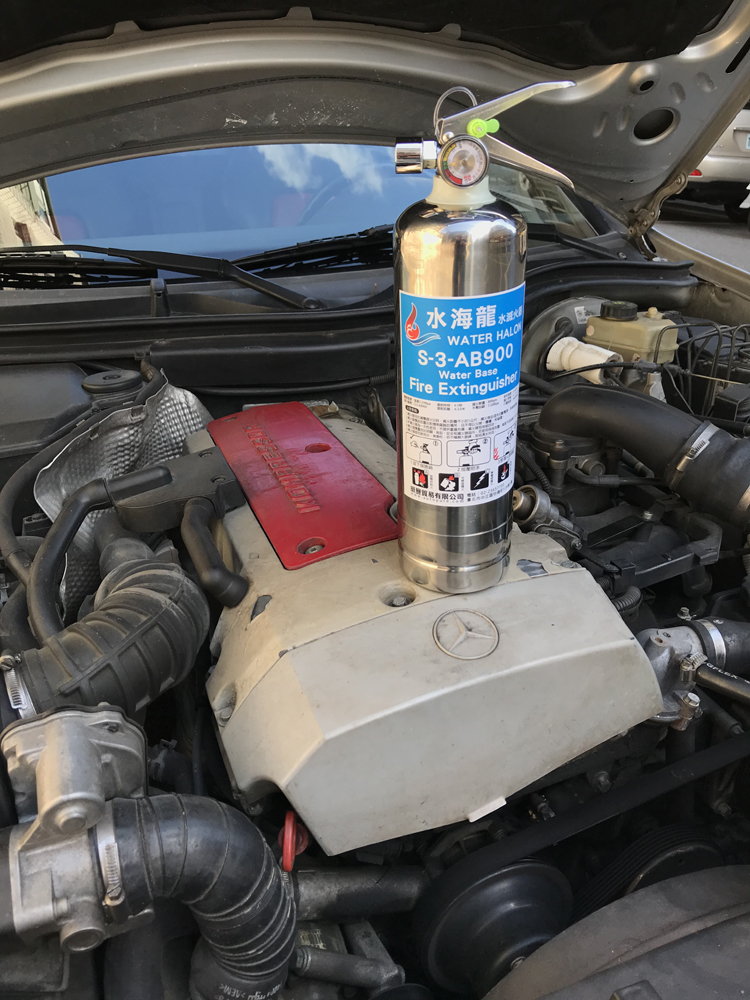 Full tank pressure, gauge pressure

≧

195PSI - 1.02Mpa – 13.71Kg/c

㎡

The tank body and handle of the fire extinguisher are made of
304L stainless steel, and the stainless steel bottle is resistant to
high pressure (deformation pressure 8Mpa).
C6301 low lead and low chromium environmental protection
copper forged fire extinguisher valve, solid and durable, not broken,


Press the foot firmly, and the spray is strong and smooth.

Made In Taiwan - factory in Annan District, Tainan, Taiwan.

Make sure that this photo is a real fire extinguisher, not a small and
beautiful fire extinguishing decoration.

Additional easy access and fixed

steel hanger frame is available.


The water halon water fire extinguisher is in the form of water mist
when it is sprayed, which instantly evaporates a lot of heat in the fire scene
and reduces the temperature.

Suppress heat radiation.



Surfactants can quickly form a water film on the surface of the burning material,
isolating oxygen, Rapidly drop the temperature to achieve the purpose of rapid
fire extinguishing.
Water Halon fire extinguisher is environmentally friendly, non-toxic, easy to
clean up after fire extinguishing, and the agent can be degraded 100%.
It will not pollute the sprayed objects and the surrounding environment.
High efficiency flame retardant, strong re-ignition resistance,
high permeability and fast fire extinguishing speed.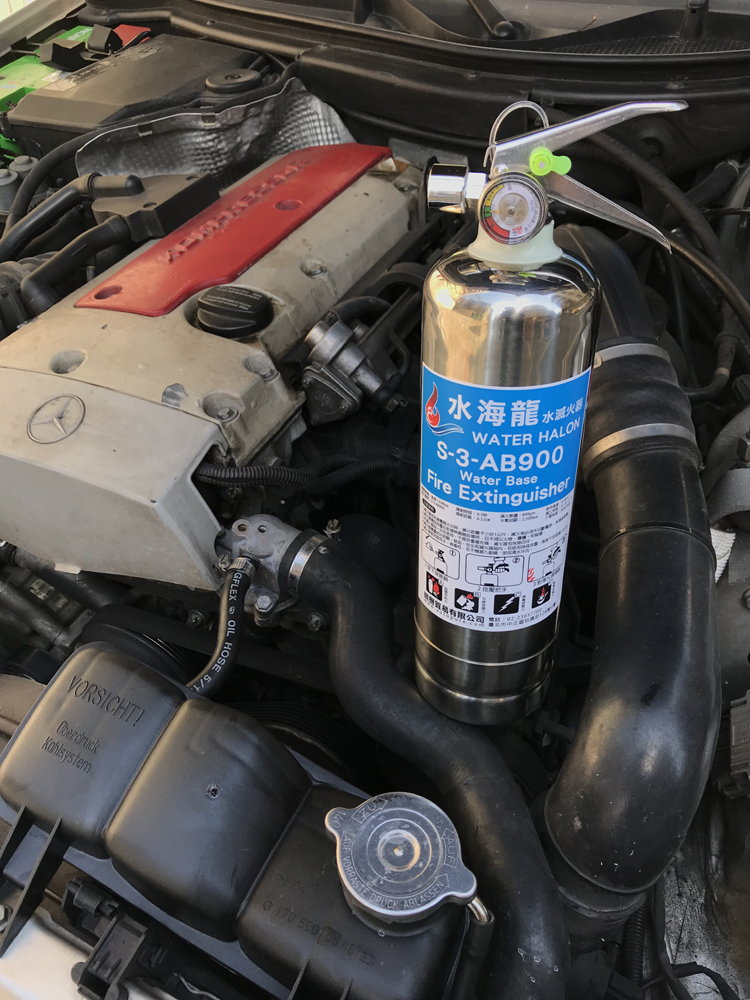 Model: WA2000
Brand:Water Halon
Type: FE-B03900
Type of fire extinguisher: water fire extinguisher
Radiation mechanism: pressure accumulator portable
Dimensions: Dia. 110mm x H 420mm x W 110mm
Medicine weight (volume) volume: 2000gm
Total weight: 2.90-3.20 kg
Accumulation pressure: 18 kgf/cm2
Amount of pressurized gas: nitrogen
Container (cylinder) material: stainless steel 304L
Fire extinguishing efficiency value: 3A, 1B, C, F
Spray time: more than 40 seconds
Spray distance: more than 5 meters
Safety valve actuating pressure: less than 25kgf/cm2
Operating temperature range: 0℃ ~55℃
Electrical insulation performance: ≦36KV/mm
Scope of application: suitable for fire extinguishing of Class A, B, C, and F fires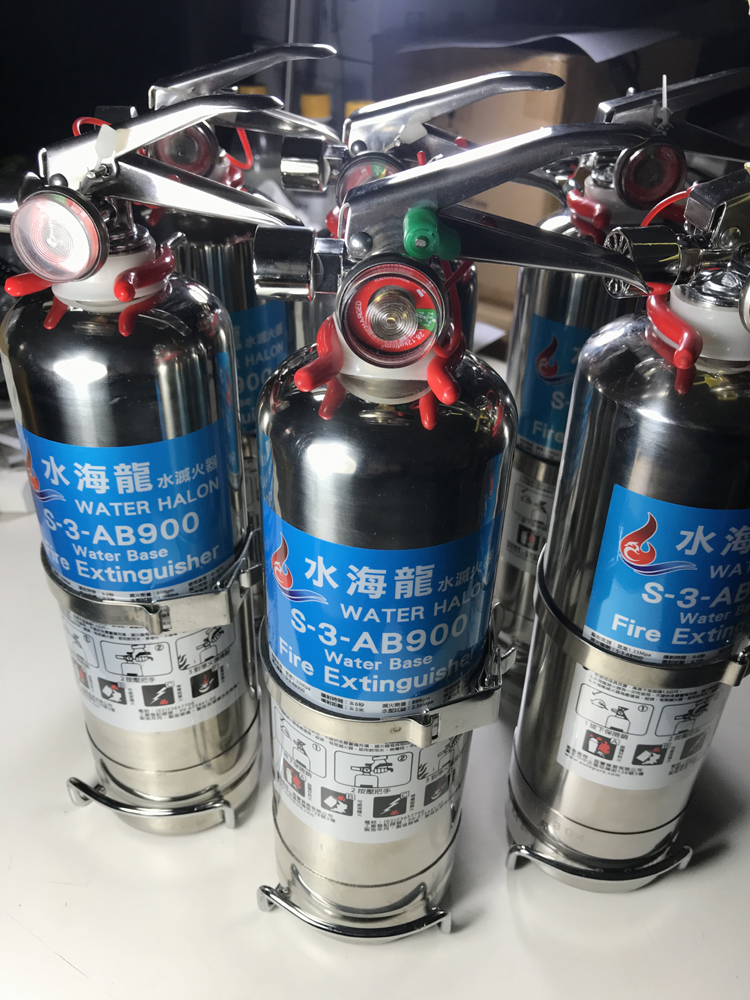 Water Halon Fire Extinguisher: In Accordance With the Fire Law of the
Republic of China Spray-type Simple Fire Extinguisher.
WA2000 NT$2100/pc EXW Taiwan
Worldwide shipping Freight Please Ask A Freight Quote