產品
Halon Fire Extinguisher FK-5-1-12 Novec 1230 AKA Halon 3L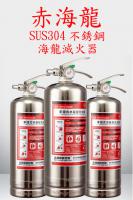 $16000 $12000
FK-5-1-12 Novec 1230 3L

Valid 20 Years

AKA Halon 3L is very similar to the AKA Halon 3L, it weighs 10 pounds,
has 7 pounds of Halon FK-5-1-12 fire extinguishing agent.
FK-5-1-12 clean extinguishing agent
has good environmental harmony, and its
Ozone Depletion Potential (ODP) is 0, 
Global Warming Potential (GWP) <1.0, and the
Atmospheric Life Time (ALT) is 0.014 year
Like the AKA Halon 3L it is also a chemical fire extinguisher that can handle
all types of blazes, whether they are conventional, liquid, or electrical fires.
A B C
Like the AKA Halon 3L the AKA Halon 3L is refillable and comes with
a wall mount and a pressure gauge.
Discharge time is 45 to 50 seconds, and spray distance is greater than 16 feet.
It is about an inch taller than the AKA Halon 2L but a few inches narrower,
so it won't take up too much space.
Reviewers like the sturdy stainless steel trigger and say the unit feels durable.

Those who've had to use this extinguisher say it did its job well,
but potential buyers should also note that AKA Halon has been plagued by
a significant number of fire-extinguisher recalls in recent years.
It comes with a (20) twenty-year limited warranty.