產品
Halon Fire Extinguisher Novec 1230 FK-5-1-12 AKA Halon 2L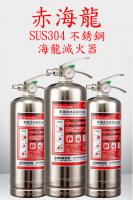 $14000 $10000
AKA Halon 2L is long-lasting and reliable, and a perfect size for general home use.
This is a chemical fire extinguisher that will work on all kinds of fires: trash, wood,
and paper, flammable liquids, and electrical blazes.
It weighs 8 pounds, has 5 pounds of
Halon FK-5-1-12 Novec 1230 2L
FK-5-1-12 clean extinguishing agent
has good environmental harmony, and its
Ozone Depletion Potential (ODP) is 0,
Global Warming Potential (GWP) <1.0, and the
Atmospheric Life Time (ALT) is 0.014 year

The AKA Halon 2L has stainless steel overall, forged C6801 valves and comes with
a wall mount and a pressure gauge.
Reviewers like that unlike many home fire extinguishers, this one is refillable.
They also say that its 40-second discharge is enough to put out substantial household
blazes, but at about 17 inches tall, with a quick release frame stand is able to fit
in a cabinet or in other tight storage spaces.
The stainless steel handle and trigger also earns a lot of praise for sturdiness and
durability compared to cheaper plastic versions.
It comes with a (20) twenty-year warranty.